Enhance your page layout and presentation projects with images that give a cultural identity and a distinctive look!
Choose from 33 beautiful calligraphic images in EPS format, ready to be imported into your newsletter, pamphlet, poster or other communication pieces. Available now for Macintosh and IBM PC/compatible computers, and require software applications that read EPS files, and PostScript© printers or imagesetters for best output quality. This collection of high quality computer clip art is professionally drawn from traditional sources, and enhanced to meet todays quality and taste expectations.

The rendering of the traditional designs in this collection is faithful to the originals, except for minor modifications to enhance legibility and reproduction quality. The feel of the calligrapher's hand writing is maintained as much as possible, and the strokes originally produced by the reed pen are meticulously analyzed and reproduced, with full control over the quality of each line and the construction of each path. The result is artwork of very high quality and fine detail, which can be enlarged to sizes previously possible only by commissioning original and very expensive art.

Scanning and auto-tracing is simply not acceptable to convey the subtleties and nuances of the delicate and highly refined art of Arabic calligraphy.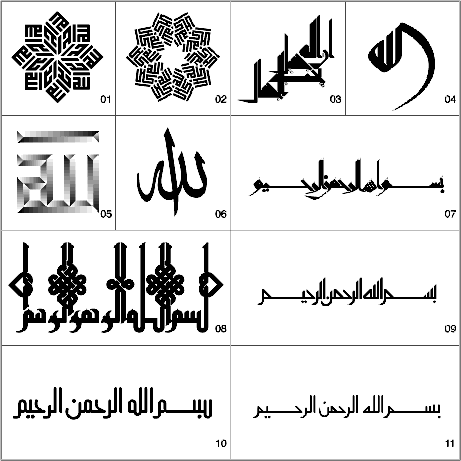 01. Allah Ahad (Square Kufi)
02. Allah Akbar (Square Kufi)
03. Allah Jameel Yuhibu el-Jamal ( Modern)
04. Allah (Eastern Kufi)
05. Allah (Square Kufi)
06. Allah (Thuluth)
07. Bism Allah ar-Rahman ar-Rahim; In the name of God, the Ever-Merciful, The Mercy-Giving (Basmalah, Eastern Kufi)
08. Basmalah (Kufi)
09. Basmalah (Modern)
10. Basmalah (Modern 2)
11. Basmalah (Modern Small)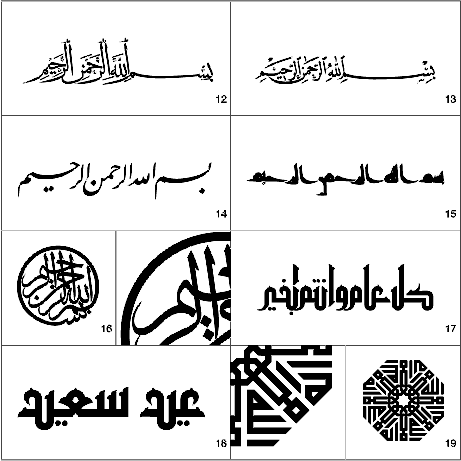 12. Basmalah (Muhaqqaq)
13. Basmalah (Naskhi)
14. Basmalah (Nastaliq)
15. Basmalah (Old Kufi)
16. Basmalah (Thuluth Round).
17. Holiday Greetings (Kufi)
18. Holiday Greetings 2 (Kufi)
19. Kufi Octagon (Square Kufi)



20. Middle East (Square Kufi)
21. Mosque (Shahadah, Square Kufi)
22. Muhammad Square (Square Kufi)
23. Muhammad Star (Kufi)
24. Muhammad Star 2 (Kufi)
25. Mulku Band (Square Kufi)
26. Mulku Square (Square Kufi)
27. Optical Kufi (Square Kufi)
Allah
alizzatu lillah
qul mashaa Allah
ma tawfiqi illa billah
wala hawla wala quwwata illa billah
la ilaha illa Allah
Muhammadun rasul Allah
28. Shahadah Band (Square Kufi)
29. Shahadah Band (Square Kufi, Version 2)
30. Shahadah Square (Square Kufi)
31. Star Part 1 (Square Kufi) Wa qul Rabbi zidni ilman
32. Star Part 2 (Square Kufi) Iqraa
33. Tiled Kufi (Square Kufi) Allah, Muhammad.
34. Tiled Kufi (Square Kufi) Allah, Muhammad, Ali

To order online please CLICK HERE.
To order by mail please fill and mail our ORDER FORM .
To see reviews of the software please click here, and for artwork based on these images please see here.

If you would like to have your own name custome designed into an attractive calligraphic piece then please review the Personal Name Calligraphic Designs in our services section.
| Arabic Calligraphy | Sakkal Home | Clip FAQ |

---

SAKKAL DESIGN 1523 175th Place SE, Bothell, WA 98012, USA. e-mail: mamoun@sakkal.com