For Immediate Release 3/28/2001
Islamic Calligraphy: Contemporary Variations on an Ancient Art

Exhibition of recent artwork
By Internationally recognized artist Mamoun Sakkal
An art exhibition of Mamoun Sakkal's calligraphic work will take place in the Peal Gallery at the King Library University of Kentucky April 19 to April 28, 2001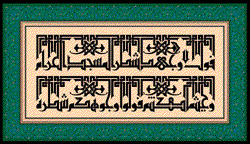 On display will be limited edition prints of calligraphic designs, as well as posters, book covers, and logotypes utilizing Arabic calligraphy as the favored medium for expression. The Department of Russian & Eastern Studies at UK organizes this Exhibit in connection with the 54th Kentucky Foreign Language Conference (KFLC). The exhibit intends to show how a prominent Muslim artist based in the United States utilizes the rediscovered visual heritage of his native culture to meet the needs for contemporary artistic expressions of Muslims in North America.
Mamoun Sakkal is a native of Syria. He studied painting and printmaking at the Plastic Arts Institute of Aleppo, Syria, and has degrees in architecture from the University of Aleppo and the University of Washington in Seattle, Washington. Mr. Sakkal received numerous awards for art and graphic design work including the first place award for Kufi style in the prestigious Third International Calligraphy Competition in Istanbul, Turkey. In addition to art, Mr. Sakkal practices architecture and interior design from his Bothell studio in Washington, and lectures on Islamic art at the University of Washington.
Admission to the Exhibit is free. It is open for the public from Thursday, April 19 to Saturday, April 28 daily from 10:00 a.m. to 5:00 p.m.
The artist will be on hand at the show on Friday, April 20 at 4:00 p.m., where he will speak about his work, and on Saturday, April 21 at 11:00 a.m., where he gives interested public hands-on instruction in the form of a workshop.

For artwork samples please click here.
For graphic design samples please click here.
For Artist Statement please click here.
For background information on Arabic calligraphy please click here.
For Mamoun Sakkal's biography please click here.
e-mail: mamoun@sakkal.com
In Lexington, Kentucky please call:
Dr. Suleiman Darrat (859) 257-7037. sdarrat@pop.uky.edu

| Custom Services | Articles & Resources | To Order | Mamoun Sakkal | What's New | FAQ | Top Ten List |
| Arabic Fonts | IslamiClip Art | Arabic Calligraphy Prints | Graphic Design | Arabic Calligraphy Instruction |

SAKKAL DESIGN 1523 175th Place SE, Bothell, WA 98012, USA.