"Calligraphy as a Phenomenon of Art and Peacemaking"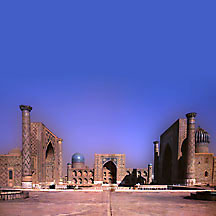 The organizer of the conference is the International Museum of Peace and Solidarity in Samarkand, its Director, Anatoli Ionesov. They are asking for input from people, for possible assistance with putting it all together, for ideas with sponsorship, etc. This is why there is no date right now - just an initial invitation to a dialog.
The organizers of the event outlined below welcome your suggestions and participation. Please distribute as appropriate. Brief e-mail inquiries (due to limited e-mail time and space on the Uzbekistan side) can be addressed to:
The International Peace Calligraphy Conference "Calligraphy as a Phenomenon of Art and Peacemaking" will take place in the heart of Central Asia in 2750-years-old Samarkand, "Rome of the East", focal point of the Great Silk Road.
The forum will bring together calligraphers, artists and art lovers from around the world to explore and discuss in mutual environment the role of calligraphy and the beauty of art in peacemaking and healing of human souls; to examine the problems of preservation, revitalization and development of the art of calligraphy. Students, school teachers, faculty and all those concerned with art and peace will find its events of interest too. There will be an ample opportunity for sharing of experiences and interaction among participants of the Conference as well as for discovering of Samarkand, "the land of Heart's Desire".
DATES OF THE CONFERENCE: 18 - 26 March 2001
DATES OF THE POST-CONFERENCE TOURS: starting 26 March 2001.
VISAS: An entry visa to Uzbekistan is required for citizens of non-CIS countries. Please send us full personal details for visa support, including full name, number of valid passport, date and place of birth, citizenship, occupation, dates (duration) of visit.
REGISTRATION FEES COVERS: conference documentation and events, accommodation (****hotel) - 9 days/8 nights, three meals per day, refreshments, transportation service (including transfers), excursions and guided tours, entrance tickets to the sights, welcome banquette, good-bye party, picnic and entertainment. The cost of main package is approximately 680 USD per person (based on a minimum of 20 participants).
ACCOMMODATION: special reduced rates have been arranged for the Conference participants with the Afrosiyob Hotel (four star deluxe hotel). To obtain these rates your room should be booked through Conference Secretariat. In case you have special requests or you want to come earlier or stay longer, please let us know in writing beforehand, and we will do our best to meet your wishes.
In case you have special requests, or would like to come earlier/stay longer, please let us know in writing beforehand, and we will do our best to meet your wishes.
The motto of the conference:
"BEAUTIFUL THOUGHTS - BEAUTIFUL WORDS - BEAUTIFUL LETTERS - BEAUTIFUL DEEDS - BEAUTIFUL WORLD"

To register or for more information please contact: peacetur@samuni.silk.org
---


Contact related to Calligraphy Conference: peacetur@samuni.silk.org
Site hosted by Sakkal Design.