GRAPHIC DESIGN AND ILLUSTRATION
Arabic Calligraphy for Mosque Interiors

View of calligraphy above mihrab of the Stamford Islamic Center, white gold leaf over wood.
Original Kufic calligraphy by Mamoun Sakkal received First Place Award at IRCICA international competition.

View of Allah and Muhammad names and Square Kufic Kalima (Shahada)
After traditional designs from the 14th century.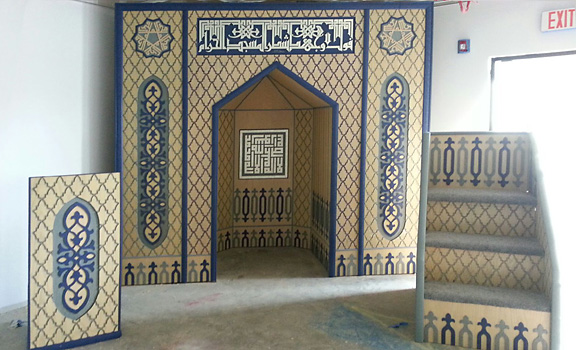 View of mihrab area during construction.
Images courtesy of Rahim Akbar, Mahir Arts.
For images of construction progress please see here:
http://stamfordislamiccenter.com/activities.html
This and similar artwork is available for licensing.
---
Project: Arabic calligraphy for mosque mihrab and Qibla wall.
Client: Stamford Islamic Center, Stamford, CT, USA.
Designer/Calligrapher: Mamoun Sakkal 2013
Production/Fabrication: Rahim Akbar of Mahir Arts, 2013 www.facebook.com/woodgallery



© SAKKAL DESIGN 1523 175th Place SE, Bothell, WA 98012, USA.