A Brief Survey of Proposals to Simplify Arabic Script
© Mamoun Sakkal 2000
Illustrations

al Abjadiyyah al-Muwahaddah (the Unified Alphabet), Nasri Khattar, Lebanese born. Announced in 1951. Image from Zain al Din, Naji: Badaii al-Khatt al-Arabi (The Beauties of Arabic Calligraphy), Baghdad 1971. p. 41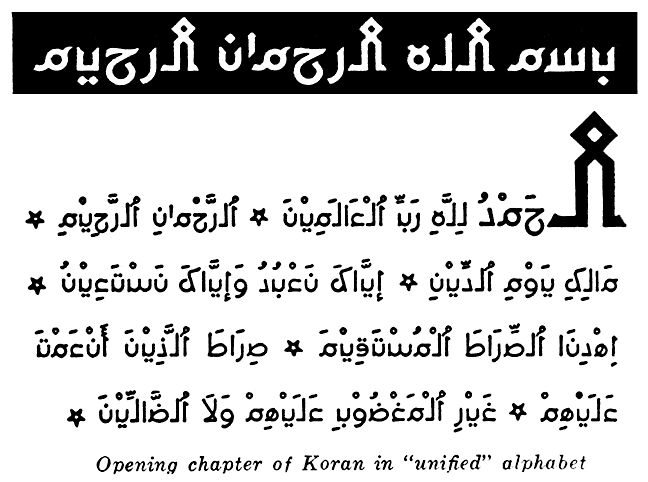 al Abjadiyyah al-Muwahaddah (the Unified Alphabet), Nasri Khattar, Lebanese born. Announced in 1951. Image source unavailable but likely from Arab Civilization information packet produced by the Arab Information Center, Washington DC. No date.
For further information about the Unified Alphabet please see the web site published by the late Mr. Khattar's daughter.
________________________________________
| Back to Article: A Brief Survey of Proposals to Simplify Arabic Script |
| Side notes: Comparison of Latin and Arabic scripts | End notes | Bibliography |
| Arabic Calligraphy |

SAKKAL DESIGN 1523 175th Place SE, Bothell, WA 98012, USA.