GRAPHIC DESIGN AND ILLUSTRATION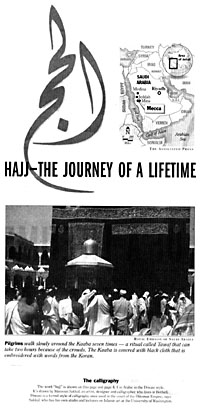 The word "Hajj" in Arabic in Diwani style
Final artwork as appeared in newspaper article

The calligraphy
The word "hajj" is shown on this page and page K1 in Arabic in the Diwani style.
It's drawn by Mamoun Sakkal, an artist, desingner and calligrapher who lives in Bothell.
Diwani is a formal style of calligraphy once used in the Ottoman Empire, says Sakkal, who has his own studio and lectures on Islamic art at the University of Washington.
---
Project: Arabic calligraphy for Newspaper article
Client: The Seattle Times
Designer: Mamoun Sakkal 2000



© SAKKAL DESIGN 1523 175th Place SE, Bothell, WA 98012, USA.